Due to the coronavirus pandemic, the governments around have advised every citizen to stay at home. Globally everything is at shutdown from workplaces to schools. But, circumstantially, the risk of neglecting education and development is not an option. Therefore, the education system is taking the help of technology to reach out to every student. And helping them to learn and grow at home in a safe and healthy environment. The online learning is considered the best alternative as running the schools open poses a safety risk for students.
Therefore with the online learning sessions, students are accepting new schedules and ways of learning and many countries have adopted this approach.
One of the many benefits of schooling was the lessons of punctuality and discipline. At home sustaining the same approach seems uncanny. Parents are trying to help their children to maintain a schedule. Even at home so that the child does not forget the teaching and learnings of the school. The virus doesn't seem to be leaving soon, so practicing these approaches are proved helpful according to students. Some students are even suggesting that learning from home is more challenging.
One of the major problems faced by the students is the burden of understanding. Students are missing classroom interactions where sometimes they would learn from the teacher, but other times they would also prefer to take help and get inspired by their friends. It used to lessen the stress of the students.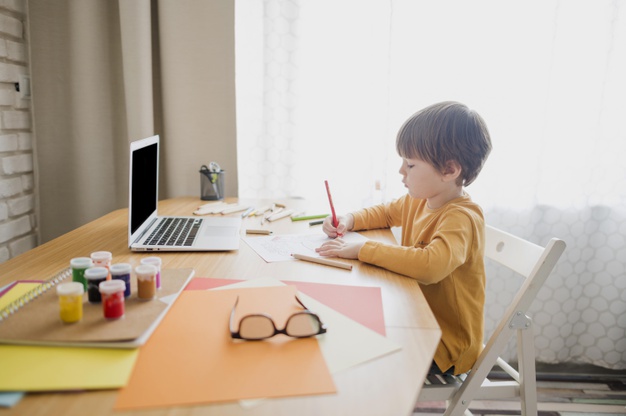 But one good thing that came out of online learning was, students, are developing new and good habits of self-learning. Where they use the internet, not only to attend the lectures but also for the research purpose for their assignments. Through this, they accumulate extra information which might even interest the student more towards the subject.
Every home is diverse, and not every home will have the luxury of space, however, creating a disturbance-free learning space for the student is a great way to encourage learning at home. This space can be a different room or the dining table – just as long as it is away from distractions like the television, the mobile etc. Parents are also putting initiatives to provide the children with these necessities.
Online learning is privileging them to learn in a comfortable environment. Students are free to take a genuine free break, unlike school where they had to sit throughout the lecture. With the help of meeting apps, students are getting personalized access to their teachers which is helping them to attain the specialized attention of a teacher.
The biggest drawback of the whole scenario is the children with no access to a stable internet are suffering the loss of education. But all in all, online learning is seemingly the most suitable alternative to settle in the present situation with the world.